If you want to impress your guests with the latest appetising trend, you should opt for a wedding food bar at your reception. There are more ideas than you can shake a stick at on Pinterest and no wonder, as a wedding food bar is one of the best ways to personalise your wedding reception meal. While no doubt you have already seen lots of popcorn, candy and s'mores, there is a lot more to a food bar than sweet treats – it's possible to make a DIY food station with virtually all of your favourites things. Here, we bring you lots of exciting ideas so that you can tailor your wedding food bar to perfectly suit your tastes.
The Drink Station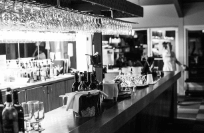 While drinks may not precisely fit into the food category, a drink station is sure to be one of the highlights of your event. Here are some of the best suggestions:
·         Coffee bar – provide cream, sweetener, cinnamon, mocha powder and let them make the drink of their dreams to give them enough caffeine to party into the night!
·         Beer Flights – find local craft breweries and ask if they would provide drinks for your wedding, or simply buy a few kegs of your favourite brands and serve your guests with flights
·         Martini bar – supply vermouth, liquor, lemon slices, olives and ice and they can decide for themselves if they prefer their cocktail shaken or stirred
Finger Food and Appetisers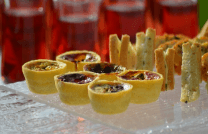 Guests love to nibble through the night, and these appetisers are sure to get them excited:
·         Salad bar – who says salad is boring? Supply a range of fruits and vegetables as well as cheeses, dressings, bacon bits and seeds so they can make a healthy side dish
·         Potatoes – let them choose the perfect topping for their baked potato from cheese, coleslaw, beans or chilli, or any of your other favourites
·         Bruschetta – go for an Italian theme and toast plenty of crostini together with a range of delicious toppings like pesto, avocado or tomatoes, mozzarella cheese and basil
·         Continental meats and cheeses – provide a comprehensive range of sliced continental deli meats like salami, chorizo and mortadella as well as some delicious sliced cheeses to accompany them
The Main Event
The part of the meal that they've all been waiting for! Impress your guests with one of these tasty options:
·         Sushi rolls – call in the help of a talented sushi chef and provide a range of delicious Japanese treats
·         Build your own pizza – everyone loves pizza, so what could be better than letting your guests make their own with a combination of sauces, meat, vegetables and other toppings?
·         Pasta – one of the easiest and most versatile DIY food bar ideas, simply provide a couple of different pasta varieties together with trays of delicious meat and vegetable based sauces
·         Create your own sandwich – let your guests create their perfect sandwich with a choice of artisan breads, fresh cheeses, meats and other tasty fillings
The Perfect Finale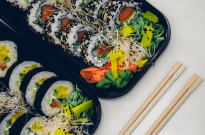 Perhaps the best part of any meal is the sweet course, so make sure that you don't skimp on DIY desserts with these great ideas:
·         Pie – there's a pie to suit every taste, from pecan or pumpkin to fruity favourites like apple or cherry. Serve with a choice of custard or cream.
·         Cheesecake – you can choose between mini bite-sized offerings or large, satisfying slices of a range of favourite cheesecakes from chocolate to blackcurrant
·         Ice cream sundaes – whatever your age, you're never too old for ice cream. Choose tubs of different flavours or go for a Mr Whippy-style self-serve machine. A selection of toppings and sauces is a must!
·         Candies – a candy bar can look really spectacular if you choose a selection of clear glass jars, vases and bowls to fill with a selection of chocolates and sweets
·         Cupcakes – cupcakes are very fashionable at the moment. Choose from a selection of different flavours or let your guests decorate their own
·         Chocolate fountain – this has become a classic over recent years, but it never gets old. Supply fruit pieces and marshmallows for dipping
Can't Cope With Making a DIY Food Bar Yourself?
Do you love the idea of a wedding food bar but just haven't got the time or energy to do the job yourself? Then let someone else tackle it for you. Why not order take-out food from a local fast food joint like McDonald's or order a stack of pizzas from your local Domino's? Alternatively, how about hiring the services of a food truck? Many food trucks now cater for weddings, and you can choose from a range of options from classic fish and chips to hog roast sandwiches!